The introduction of LinkedIn has done a lot of good for business networking. Finding career-related jobs has become much easier than before. However, with the success of LinkedIn, most people are treating it as a tool to get their dream job. Well, that is definitely not a bad idea because your LinkedIn profile is basically a replica of what your resume is. Now, the question comes to mind, is a social networking profile is enough to substitute a resume?
Absolutely not! You can always connect to recruiters on this website and search for vacancies, but it is not to be treated as a place where you think recruiters would be impressed by your profile. Yes, it is possible to create a good first impression, but resumes would still be your ultimate portfolio.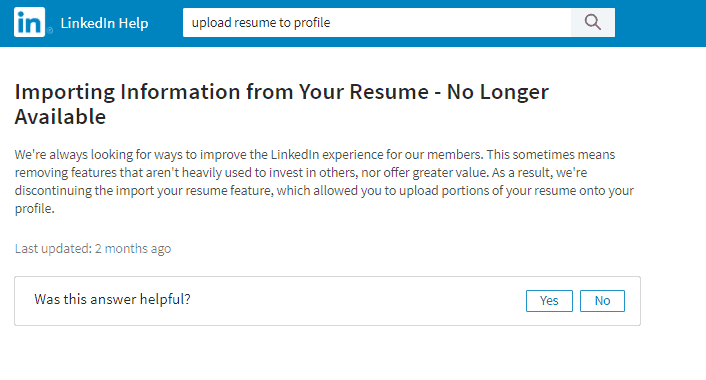 Most Obvious Reasons Why You Need a Good Resume?
Given below are five important reasons why you need to have a good resume even though you have a fabulous LinkedIn profile:
Companies prefer to have a record
The old school way of keeping a record of every application of candidates will remain till the end of time. Every company wants to have a permanent record of the applicant and a LinkedIn profile would not do. Be it in hard copy or soft copy, a resume will exist because that's how things are done officially.
No need to make your scores public
Not everyone comes first in class and those who are at the bottom of the list or so called mediocre students also deserve to get a good job. But, how would it look to publicly show that your grades are not that great? Sending out a resume is very private and it remains between you and the recruiter. A recruiter too, is not just concerned with your grades, but your personality as well. Further, no third person is able to see your resume or comment on it except the recruiter. There are many cases where candidates did not have good scores, but they have performed brilliantly when given a job. Moreover, there are things that you may want to keep confidential and not put them up on an open-ended networking website.
LinkedIn profiles are generalized
If you think that a single will be suitable for every interview you appear for, then you might sound wrong. Different job vacancies require different resumes that have to be tailor-made for that particular interview session. A LinkedIn profile will give a generalized idea of a candidate and that is not what the recruiter wants from you.
Resumes are more up to date
LinkedIn profiles can be very attractive and appealing, but at the end of the day it is just another networking website, right? It is not always possible to update each and every single accomplishment as and when they come by. However, a resume is quite different. Almost every candidate checks their resume before finally sending it to the recruiter. And, that is the time when latest accomplishments can be added.
Style of writing is different
Come to think of it, a resume is so much different than a LinkedIn profile. It is quite possible for a recruiter to export a LinkedIn profile, but resumes hold that professional gravity in them. One of the reasons for that is because of the way in which resumes are written. They are a lot more direct and focused on the particular job that the candidate is applying for.
word
A good resume is always the best way to understand a job applicant's true potential. LinkedIn can act as a job portal where your profile can serve as your resume, but that is not the end all of it. Recruiters will still want to see your resume during your interview. So, focus more on updating your resume and keep LinkedIn as a sidekick.
Be it your LinkedIn Profile or your perfect resume, Write My Cv is there for you at every step and we make sure that land up in your aspiring job, feel free to reach out to us and avail exciting offers!